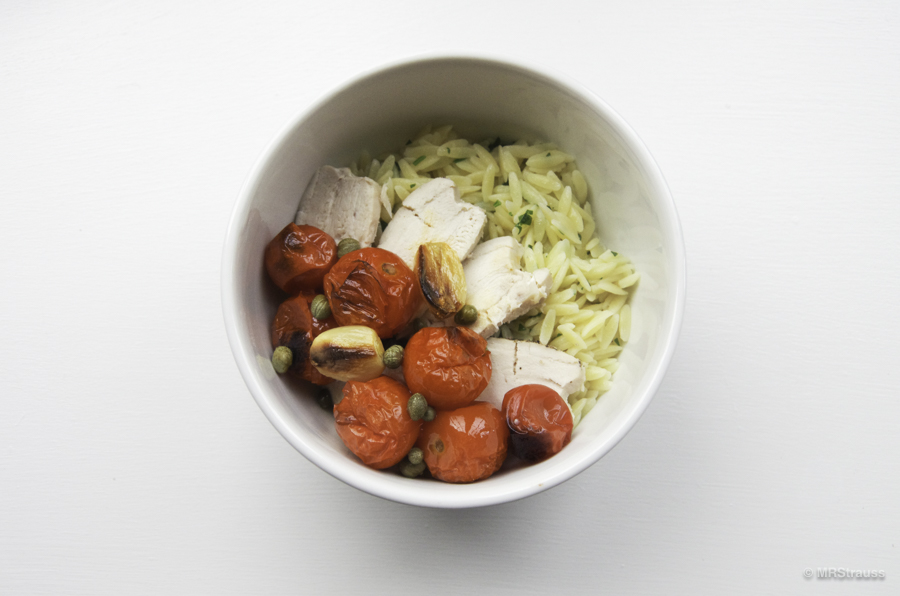 Four small chicken breasts
2 pints of cherry tomatoes
1 or 2 heads of garlic cloves peeled
2 cups of orzo
1 cup of parsley leaves (I don't like the stems, so I pluck the leaves)
1 lemon
2 tablespoons of capers
Sea salt flakes, ground pepper, olive oil
Arrange the shelves in the oven to make room for the baking dish with the chicken and the baking pan with the tomatoes to go in together— I put the chicken just below the middle and the tomatoes and garlic just above the middle. Get the oven going at 400°. Put the cherry tomatoes and peeled garlic cloves and capers in a bowl. Toss with a little olive oil, spread this out on a baking sheet and sprinkle with some sea salt flakes. Place the chicken breasts in a baking dish and sprinkle with salt and fresh cracked pepper. If the baking dish doesn't have a lid, cover with foil; I use an 11 cup Anchor Hocking baking dish with a glass lid which is good for up to four not too big chicken breasts. Put everything in the oven. The tomatoes will take around 30 minutes to shrivel up and get some brown spots. I usually just leave the chicken in until everything is done, but you can test it around 20 minutes; if it looks cooked through when you pierce it with a knife or the instant read thermometer says it's 165º, it's done. You can take it out and let stay warm on the stove.
While the tomatoes are roasting, start a pot for your orzo and bring it to a boil; salt the water if you wish. Orzo usually takes 10 minutes, so try to plot for it to be done when the chicken and tomatoes come out. While you're waiting, finely chop some parsley for the orzo, and have some lemon wedges ready— I take out any pips that I can see. Set your bowls on the stove to let them warm up a bit.
When the tomatoes and garlic and capers are shriveled up and brown in spots, it's ready. Drain the orzo and put it back in the pot; drizzle with some olive oil and fold in the parsley and maybe some salt. Take the chicken and tomatoes out of the oven and slice or dice the chicken in the baking dish or on a cutting board. Now it comes together: every bowl gets some orzo, a few slices of chicken, tomatoes and garlic. Then I finish the dish with a few capers and a splash of lemon juice. This might work with fish, maybe tilapia dredged and pan fried. The orzo could be any small pasta (little shells with fish could be nice) or even rice, quinoa, or couscous.
Update February 2016: I made this with quinoa instead of orzo and I like it just a much.
Copyright © 2017 MRuesen • All rights reserved