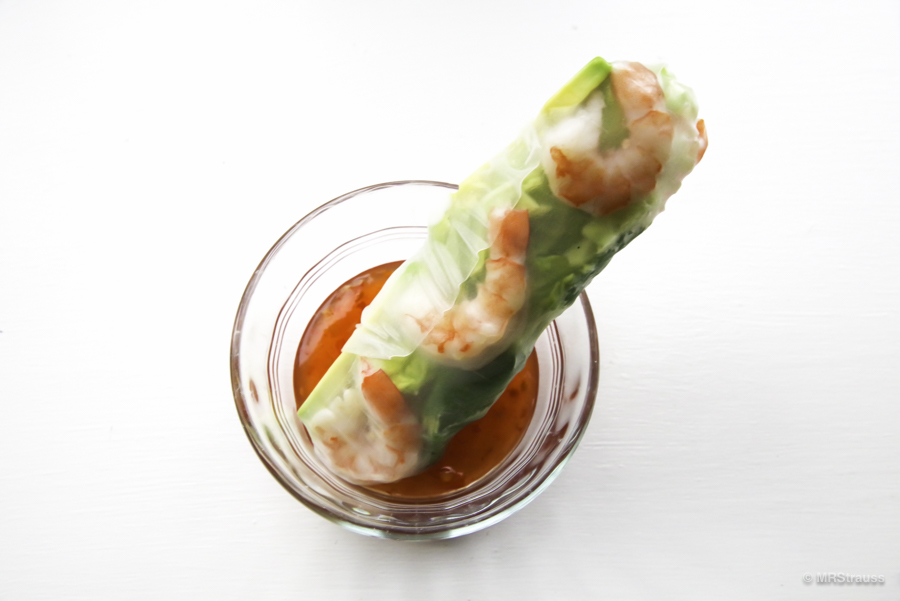 I make 3 per person. Here I'm making 12. Sometimes the ingredients get a little tilted by the end. I usually run out of avocado first.
For this three person version, you'll need:
1/4 of a 14oz package of rice stick noodles
36 shrimp peeled and deveined or frozen
1 carrot julienned
1 cucumber julienned
Rice vinegar
2 cups cabbage (Napa, Savoy, Green…) sliced thin
1 Avocado halved and finely sliced
24 sprigs of cilantro
24 basil leaves
12 25cm extra-thin spring roll wrappers (or 22cm look for Dynasty brand)
Sweet chili sauce for dipping
Toasted sesame seeds for garnish
Cooking equipment I used:
9×9 Pyrex baking dish
4 quart saucepan
2 cups boiling water in a 9×9 casserole dish or something close to that. Break up a quarter of a 14oz package of rice stick noodles and soak for about ten minutes then drain in colander. Cut up a bit with scissors.
36 shrimp. 3 for each roll. I buy frozen medium size wild-caught white shrimp and flash them in lightly salted boiled water for 3 minutes (turn burner off as soon as shrimp are in. Then drain in colander and remove tails).
On a big cutting board with prep bowls if needed:
1 carrot julienned (I have a hand-held Japanese Kinpira julienne tool thing)
1 cucumber cut lengthwise and seeded. Julienne half. Thinly slice other half and put in bowl with some rice vinegar.
About 2 cups of cabbage finely sliced (Napa, Savoy, green, or whatever)
1 avocado cut in halves and sliced thin
Cilantro leaves and tender stalk
24 or so basil leaves
12 25cm extra-thin spring roll wrappers.
With enough space on cutting board to roll and a 9×9 casserole dish with hot water next to it, rotate wrapper through hot water, place on cutting board and begin to load about a third of the way down the wrapper: basil leaves and shrimp next to each other and then everything else on top. Tuck in sides and roll.
Serve cucumber slices in small dishes topped with toasted sesame seeds and sweet chili sauce for dipping. I usually make sushi rice as a side.

Copyright © 2018 MRuesen • All rights reserved