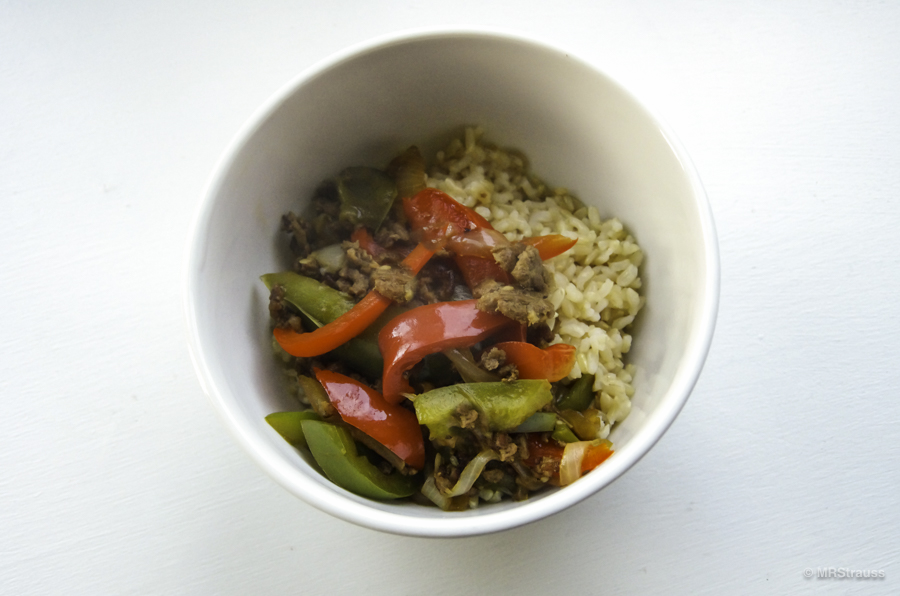 …because it's red and green.
For this four person version, you'll need:
1 1/2 cups short grain brown rice
2 1/3 cups water
1/2 teaspoon salt
1 tablespoon olive oil
1 tablespoon cornstarch
1/3 cup soy sauce
1/3 cup water
1 tablespoon grated ginger
2 cloves of garlic finely chopped or use garlic press
1 tablespoon curry powder (recipe at end because I have a fenugreek allergy)
1 pound ground beef
1 large yellow onion sliced into strips
1 red pepper cut into strips
1 green pepper cut into strips

Make rice. I bake short grain brown rice. Oven 375º. Bring 2 1/3 cups of water to a boil. I use a measuring cup in the microwave. In a covered baking dish or use foil, combine 1 1/2 cups rice, 1/2 teaspoon salt, 1 tablespoon olive oil, and the boiling water. Stir. Cover. Bake for 50 minutes.
Make sauce. In a measuring cup add a tablespoon of cornstarch. Mix in 1/3 cup soy sauce slowly. Then 1/3 cup water. Add 1 tablespoon grated ginger, 2 cloves of garlic finely chopped or put through the press, 1 tablespoon curry powder.
Brown around one pound ground beef. I freeze ground beef for dishes like this. I use 90% lean grass-fed. In a large frying pan, add frozen ground beef. On medium high heat, turn and break up with spatula. Meanwhile, slice one yellow onion into strips. Add onion when beef is browned. While onion is browning cut red and green pepper into strips. Add peppers to the pan and about a half cup of water. Cover and steam until peppers are how you like them. Work in the sauce for a minute or so, adding water if needed. Serve over rice.
Done.
I'm thinking about trying this with a butter, Worcestershire sauce, and curry over mashed potatoes.
Curry powder: 1/2 teaspoon coriander, 1/4 teaspoon cumin, 1/4 teaspoon tumeric, 1/4 teaspoon ginger, 1/4 teaspoon dry mustard, 1/4 teaspoon black pepper, 1/4 teaspoon cinnamon.
Copyright © 2017 MRuesen • All rights reserved